Is the 2022 Housing Market Like 2008? The simple answer is "No". Now, I know that's all we're hearing from many pundits in the media. The "market crash is coming and it's going to be worse than 2008!", they say. However, when I look at the data from then compared to now, the storylines are not the same. The data tells us a different story.
Why are homes so expensive now when compared to previous years? The main reason is there aren't enough homes to go around. The US population, has increased over the last fourteen years. From 2010 to 2020 we saw a population growth of 22.7 million people in our country*. The home builders did not keep up pace with the population.

What the Data Says
The Median Days on Market chart below shows us the median number of days that listed homes stayed on the market. If you look at the year in 2008, homes were staying on the market from 75 to 150 days. From 2008 to 2013 approximately, the number of days on market fluctuated heavily.
Towards the year 2014 and afterwards, the longest would be about 80 days. From that point we see a steady decline up to 2022 where it's been consistently below 25 days. Why? The housing supply has been steadily decreasing for many years.
Are you a first-time home buyer, or do you need to just brush up on the home buying process? Go here: https://tomajohnsonrealtor.com/first-time-home-buyer-in-california-temecula-real-estate/
We Still Only Have About 2 Months of Housing Market Inventory
The Inventory Months Supply chart below shows us the housing market inventory we have enjoyed in Southern California since January 2008. In it we go from almost 60 months of available inventor in 2008 to just around 10 months in only 7 years. It's not just by accident. There were several key factors that created this shift along with population growth.
I believe that major corporations also started competing with our families and friends for regular, everyday homes. Investors with large amounts of cash began to jump into to the market. Companies like Airbnb and Vrbo were created and the short-term rental industry began to boom. Single family homes were in high demand and no one saw the pandemic coming at all.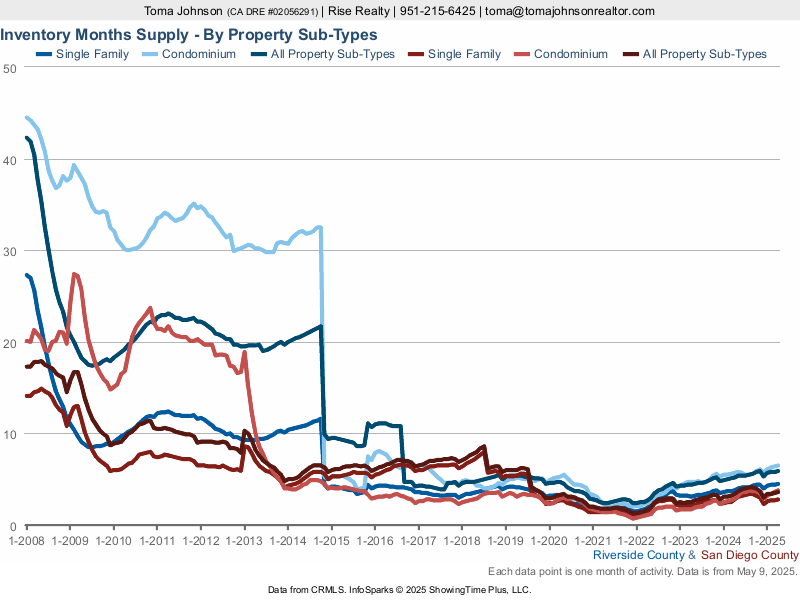 We Are Far From a Crash Like 2008
Just these two charts should show you why our 2022 economy is not like 2008. Of course, anything can happen. I'm not bullish on a crash coming anytime soon. In order for housing prices to bottom out, we have to have an enormous amount of inventory. A large inventory and lowered demand would cause home prices to fall drastically. Interest rates have caused home prices to correct, but not fall.
Now is as good a time to purchase a home as any time in history. The best thing that happened to the housing market is the clamping down on the short-term rental industry. As a working realtor, I am a tad biased, but I believe that we, as consumers, all deserve home ownership. So should you. Don't let the media fool you in to thinking that it's all going to crash. It's not. Not right now anyway.